On May 30, DALICHAIN(a Singapore Public Chain Project) and BW.com Asia Operation Center formally reached a strategic cooperation. The two sides will cooperate in developing digital currency application scenarios, public chain technologies, and community management services to create a new digital currency life service entrance. Livio(DALICHAIN Founder), Davis(DALICHAIN Co-Founder) and Pony Chan(BW.com CEO) attended the signing ceremony.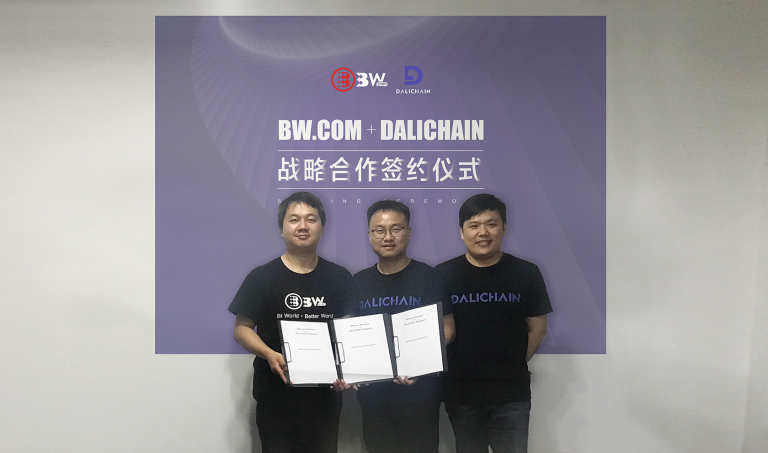 DALICHAIN
Livio is very optimistic about the digital currency applications in the consumer market and said that, DALICHAIN has implemented solutions in various fields such as copyright, energy, logistics, carbon emission and supply chain finance since its establishment in 2017. DALICHAIN has explored massive new business models and striven to provide the best commercial blockchain services to global partners and customers. In the past, DALICHAIN focused more on business services. The cooperation with BW.com marks that DALICHAIN is well prepared to serve common people, and more life-consuming applications will be released.
Davis( also DALICHAIN CTO) added that blockchain industry has entered the stage of multiple-blockchain coexistence ecosystem. The essence of future digital currency life service is the extension of cross-chain technologies. And thus, DALICHAIN has begun to develop cross-chain technologies since early 2018 and connect with mainstream public chains such as BTC and ETH. In addition, security is always an important part. In the past two years, DALICHAIN's security architecture has been continuously upgraded and reinforced. We will continue to put security first in the future, so that we can provide the reliable products.
BW.com is one of the top 10 in CoinMarketCap and the world's first digital derivatives trading platform based on mining pool. It has established operation centers in over 20 countries and regions, and serves more than 2 million cryptocurrency enthusiasts with its 4 core business sectors. It is committed to building the best derivatives trading platform.
Pony showed that it is the first time for BW.com to cooperate with a public chain in the field of digital currency life. It is a milestone. He hopes that the partnership will provide more life services for the digital currency enthusiasts. And he also looks forward to exploring more blockchain business applications with DALICHAIN.
The services will be first provided to BW.com and DALICHAIN community users and various benefits will be available. For more information, please pay attention to DALICHAIN's official news.